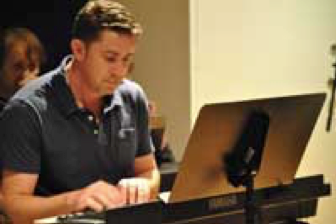 Private Instruction with Ann Louise
Ann Louise is a gifted teacher for voice and piano. Firmly rooted in the Recreational Music Making approach, Ann Louise's teaching style is to work with your talents to ensure that you get the most out of your voice or keyboard. The overarching goal is to have fun while consistently increasing your level of technical proficiency.
Ann Louise conducts private, semi-private, and group lessons for children and adults, including:
Piano
Voice
Group Piano Class
Piano for Singers
Vocal Performance Class
$180.00 Private Lessons:
Four weekly 30 minute lessons
$360.00 Private Lessons:
Four weekly 60 minute lessons
Fill out form below on-line or
Download PDF Enrollment Form
Print, fill out and bring.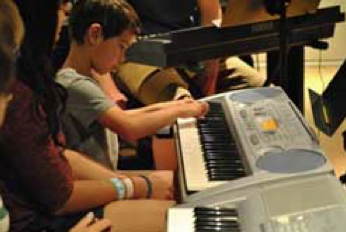 Group Piano Instruction
Ann Louise is certified in the Scott Houston Method for group piano instruction. This is a proven technique to quickly move even beginning pianists from fumbling at the keyboard to performing. Houston developed his method for beginners who wish to sit down and simply have some fun.
$100.00 Group Classes: Four weekly class sessions
$160.00 Group Classes: Six weekly class sessions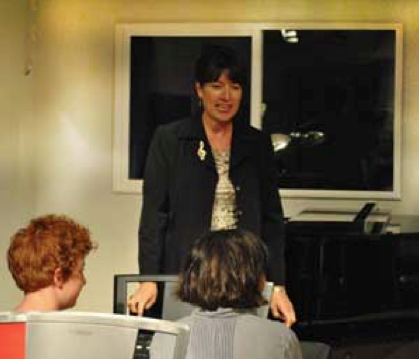 Ask About Professional Training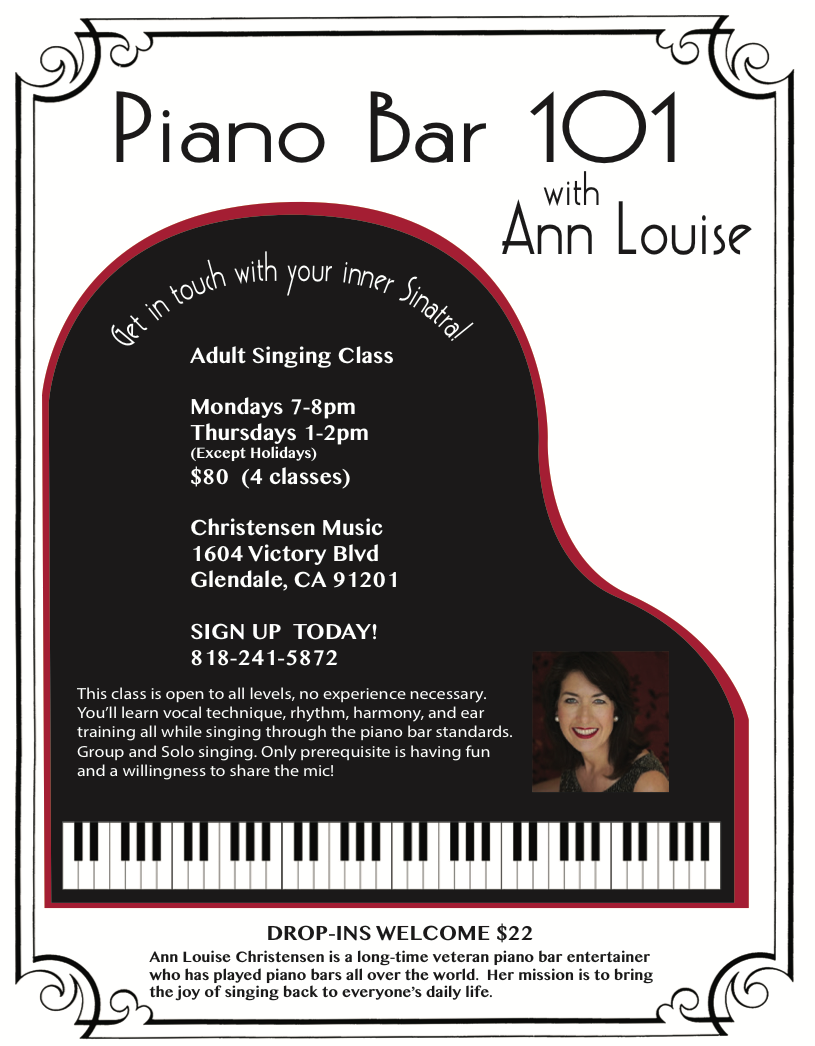 Piano Bar 101
Join Ann Louise every Monday evening and Thursday afternoon to "get in touch with your inner Sinatra." This is an intimate yet informal class for group and solo singing. Monthly membership includes entry to all 8 classes, quarterly private lesson with Ann Louise and a beautiful canvas Book bag. Covid 19 Vaccination required.
Download PDF Flier
Piano Bar 101 happens every Monday night at 7pm and Thursdays at 1pm (excluding holidays). Sign up for four sessions, or come when you can. Please fill out on-line form below.
$80.00 4-week rate.
$22.00 Drop-in rate.
On-line Enrollment Forms
Please complete on-line form and submit and make payment above or send a check to Christensen Music, 1604 Victory Blvd. Glendale, CA 91201. There are no refunds once you have enrolled. In case of illness teacher has the right to substitute a qualified instructor. I look forward to making music with you.
Private/Group Instruction Enrollment Form
Piano Bar 101 Enrollment Form
Ukulele 101 Enrollment Form
Ask a Question
Let us know if you have any questions, call us or fill out this form and we'll get back to you right away.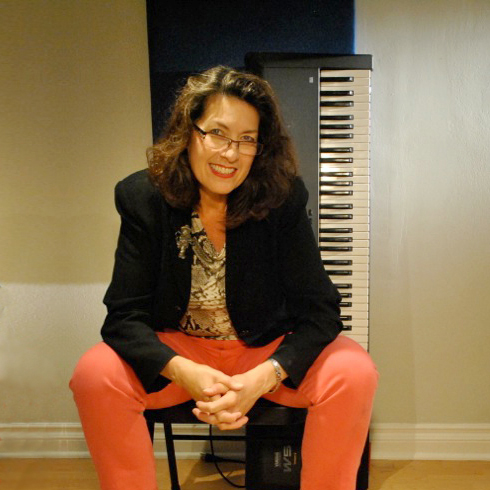 Frequently Asked Questions
What is the cost for lessons?
Tuition for a private one hour lesson is $320 for 4 weeks. Private half hour lessons in my studio or home are $160. Please understand that tuition not only covers instruction time but my preparation time, depreciation, running my business and my continued professional education. Pro-rated this is $80/Hr, $40/half hour.
What if I need rescheduling?
Because of my schedule, once a lesson time is agreed upon there can be no rescheduling to make-up lessons. Except for illness, Less than 24-hour cancellations will be charged the full rate. In the event I have to cancel a lesson, students are entitled to a make-up lesson if available or tuition credit.
How much time do you recommend for practicing?
Practicing is every musician's responsibility. (I have to too!) It must be regular and reinforced by the parent. Make sure the piano is in a quiet place, in tune, have good lighting, and appropriate bench height. I ask for 5 days a week, 30 minutes a day. Younger children can break this up into twice a day. Slow and accurate is the goal. Never practice in pain.
When is Tuition due?
Tuition is due before the first of the month. If payment has not been received by the 5th day of the month a late fee of $20 is added to the following month's invoice. I accept checks but prefer Venmo @Ann-escarrega or Zelle payments. Please make checks out to Christensen Music.
Do you schedule Performances?
We have a recital once a year and a holiday Performance Party in December. I encourage my students to participate in the Carnegie Hall Achievement program where they are tested on ear-training, theory, and performance once a year but it is not mandatory. The other method is the Piano Adventures by Faber and Faber.
What is your Teaching Philosophy?
I believe everyone should experience music first hand. I believe music benefits everyone and is an excellent form of self- expression. Teaching allows me to share my passion for music. I do not stress perfection as much as musicality and effort. And most of all: Music is Fun!
We have had the pleasure of having Anne Louise be our 6 year old's son piano teacher for almost 2 years! She has been a fantastic, patient teacher. She uses fun (and yummy) incentives to motivate him. Anne Louise also partnerned with us to find an affordable piano for our home- she went out of her way looking at ads and sending us recommendations. We are so lucky that she volunteered to go with us to inspect the piano before purchasing it. Anne Louise goes above and beyond her teacher role and we truly see great progress with our son.
Address
1604 Victory Blvd.
Glendale, CA 91201
Professional Member